The Most Elegant Way to Write on Windows.

or download it here for a 10-day free trial.
(Current Version: 2.11.1, Version History)
Inspire creates a distraction-free, light markdown writing environment that boosts your productivity. From quick notes to blog posts to great novels, you focus on the content, and Inspire helps with the rest.
Instant auto-save, real-time cloud sync and flexible export formats make your writing of any kind pleasant and elegant.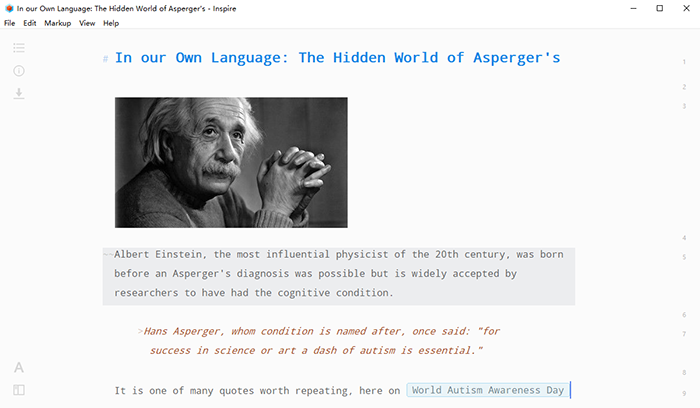 Inspire is designed for maximum productivity. The distraction-free, light, clean interface allows you to focus on your writing.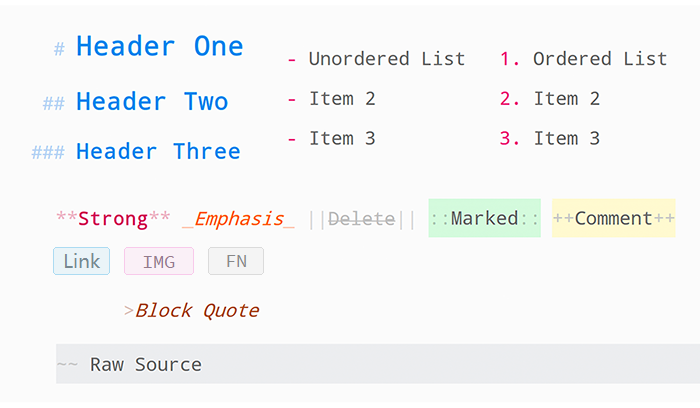 The markup shortcuts with syntax highlighting give you an immersive experience without giving away readability. Markup based editor and full keyboard support allow you to say goodbye to the mouse.
Auto-save and automatic backup so you won't need to worry about losing any of your work.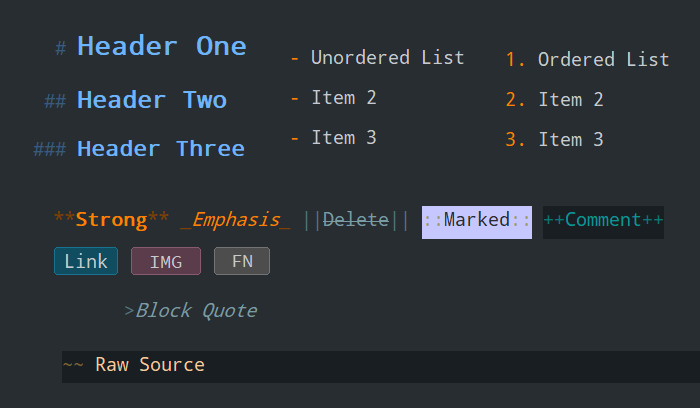 Dark Mode (theme) makes it easier to stay focused on your work at night.
Packed with typography, the flexible multi-format export feature makes your writings look great everywhere.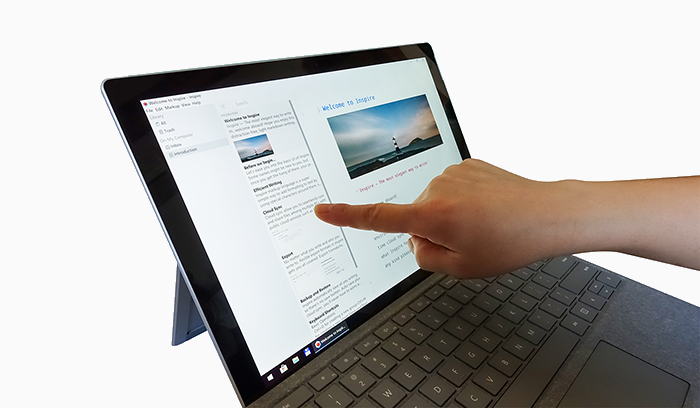 Touchscreen support assures you with a smooth scrolling, dragging and dropping experience on devices such as Microsoft Surface products.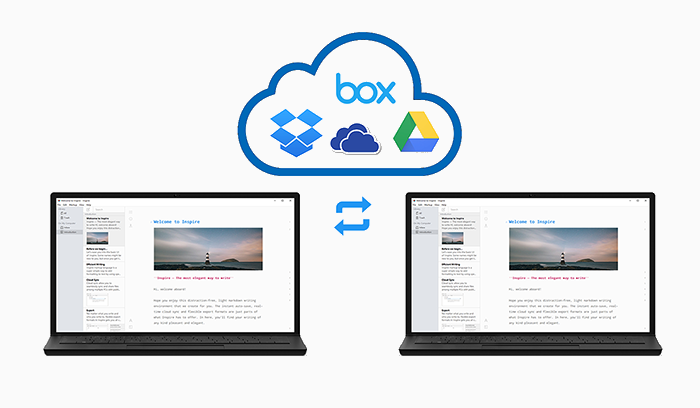 Sync groups and sheets among multiple PCs via cloud syncing services such as Dropbox, OneDrive and Google Drive seamlessly.
Features
Clean, simple and distraction-free interface
Markup-based text editor with syntax highlighting
Distraction-free writing mode
Full screen mode for a totally distraction-free writing environment
Auto-save and auto-backup
Export your writings as PDF, DOCX, HTML, MD, TXT and more
Publish to WordPress
Cloud sync among multiple PCs
Image attachments
A single library holds everything you'll ever write
Well-organized groups with hierarchy
Full keyboard navigation support
Smooth touchscreen compatibility and support
Live-updating preview
Lifetime free updates
What our customers say
I am migrating away from the Mac and I am so glad to have found Inspire Writer for Windows! I was a heavy user of Ulysses on the Mac and I decided to migrate to Windows only after finding your app 😊 — Aditya
Recently I've been working on a similar project, which looks like OneNote but using markdown and could be easily formatted, synchronized among devices, etc. , then I searched the Microsoft Store, and found Inspire just provided everything I wanted.
It's really fast and easy to use, much better than those apps built on JavaScript, and the only feature I wanted is i18n supported UI .
Very impressive software 😃 , Good job ~~ — Merrick
* All testimonials are from the Trustpilot or users email content with granted permission.

or download it here for a 10-day free trial.
Buy Inspire for only $49.99 $29.99 USD now.
(40% Off for a limited time only)
See our news and plans on Inspire Blog.
Learn more about Inspire and distraction-free writing
on our Knowledge Base (e.g. Why Markdown).
Contact us: inspire@inspire-writer.com.